Gunotsav and Pravesh Utsav: Celebration in schools
While working in Primary Government schools, I had come across an amazing festival called Gunotsav (meaning festival of competencies) happening in every school in a state for the whole month. In that month, all the Government officials will visit the Primary Government schools to encourage the students, teachers, and Headmasters. The schools are painted, decorated and re-animated. Various programs are planned and organized. There is a celebratory environment during that month. A verbal assessment was also a part of this festival. Such festivals revive the soul of the schools. This was an instance where I saw learning being celebrated. There is another such festival called Pravesh Utsav happening in Government Primary schools where admission of students is celebrated through an event. Then there are other festivals happening in Government Primary Schools where entrepreneurial activities are impersonated by students for a parody market for learning and fun.
The culture of celebration
In India, we love movies. A movie, "Baahubali 2: The Conclusion" had a budget of ₹250 crores and its success was celebrated all across the country. The movie had some larger than life characters which along with other factors helped the producers to earn ₹1793 crores. The FIFA world cup happening once in 4 years is celebrated grandly by all of us. In our democracy, elections happen every 5 years and voters celebrate the winning of their candidates. On buying a new version cell phone, customers celebrate and the releasing of a new version of cellphone or an operating system, the creators celebrate. With the advent of IPL, the winning of leagues are celebrated all over the country. We celebrate the launch of satellites, we celebrated the Pokhran nuclear tests, we fight for and celebrate public projects. Along with all these, we celebrate a lot of cultural and religious festivals around the year. It is not just about celebrations, we are also grieving the loss of our favorite team in FIFA or IPL, failure of ISRO's space missions, etc. I strongly believe, there is a need for such emotions in the classrooms. Learning can be sensational and the talk of the town. Education programs can be of high public interest. And schools can be more exciting than IPL teams.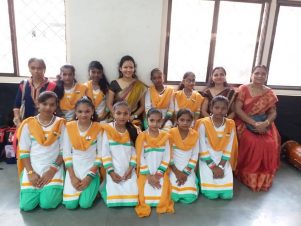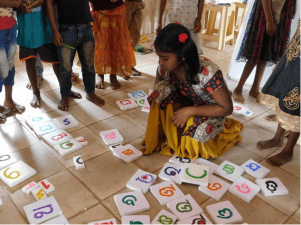 A Larger-than-life classroom
Classrooms can be the most happening places on the planet where young nation builders are equipped. A larger-than-life classroom doesn't always require large funds and world-class learning materials.
The first step can be to move out of the Bermuda triangle of Chalk, blackboard, and notebooks. Though blackboard method is useful, Concepts can be taught and learned in multiple innovative and interesting ways making the classroom more exciting.
To accomplish the above step, more and more use of different kinds of teaching-learning materials can be encouraged. We should try and experiment with different methods of teaching and learning.
If we see practically, it is not easy for a teacher to be always creative and innovative with methods and TLMs. To solve this, we need to share the successful methods through social media to a pool and even collect useful methods from the same resource pool.
Teachers need to share their successes and failures too. They need to celebrate the learning journey of students along with theirs.
The most difficult part will be to connect the outer world with the learning in the classroom. This will bring in the most important element for a larger-than-life learning experience.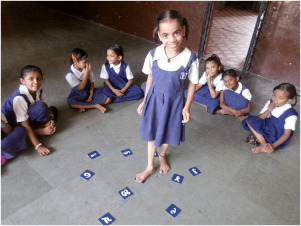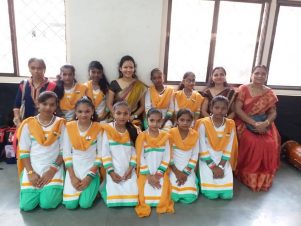 Bhumika Patel is the Principal of Dr. C. M. Desai Primary School in Surat. She believes in celebration of the learning journey of her students. Surya Ben, a senior teacher in that school creates or collects a lot of TLM for the students and carries an activity-based approach in the classroom. Round the year there is an environment of joyful and effective learning which is reflected through the students. And as the teachers rotate through classes year-wise, there is a sharing of learning methods and students learning levels. When a kid learns to count, read and write, she has achieved a major milestone in her life and that should be celebrated. The teaching of values from our great leaders through stories shouldn't ever be done in a dull manner, rather in a splendid interactive way. True learnings should be celebrated instead of marks. With this, we will shift from score-oriented learning to excitement-oriented learning. Learning can be life-changing for students. The teacher and the environment should be enabled to spark that change. – Siddharth Mishra, Learning Catalyst at Klorofeel Foundation