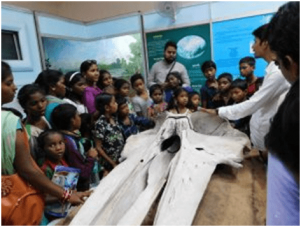 They had so many questions and so much excitement and with all this we started with our visit to natural history museum, they enjoyed meeting the unknown creatures, they would go and touch and check if the animal is actually living. They would get amazed at giant fossils and skeletons of sharks and several other animals. The curiosity in their eyes were yet to face and we reached Planetarium. How calm and surprised they were you should have seen, even that 2 year old daughter of Bijoy was all quiet. And suddenly Vikas shouted out loud, it'll fall on us, protect yourself ( in Oriya) when the planets collided and it was so intense and damn funny. But this was not it! O! I forgot writing about the persistent showers, it never left us and we all were running at times resting beneath the vendor's umbrella with water dripping, going hither, thither, but children are always full, full with joy and patience. Drenched yet happy and ready to go to anywhere the bus takes them. And the bus took us to Tribal Museum yet another significant spot of their lives, one should look how they gazed at the attires of various tribes and wonder what it was when they were not born, few would say we still have it, our grandparents wear it and few were quiet. While we moved around various sections of tribal artefacts, musical instruments, fish catcher, bird catching troops etc, they were just trying to relate and had immense curiosity in their eyes. Also our Saathis would proudly tell what still remains in their house of what is in the museum and Bipin when went inside the model mud house displayed in the museum space, he told me how methodologies have changed and what was good in the past. Like this particular huge thing made up of jute was good for storing grains and protected their grains for years but one they have now is not like that and so on.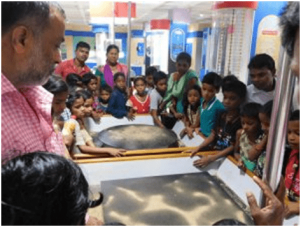 Then the bus took us to Science park, seemed like a heavenly abode for children, how the water goes round, why does the sweat produce sound, in mirror room how to come out , the 3D show and a lot more. And after the 3D show a child came out and said, go, go you'll fly just hold your seat tight to another group of children who were ready to go. 😂 Luckily the director of the place was very kind and he assisted us a lot, he showed us around the place and as soon as I wrote him an application he arranged the 3D show on the discounted rates and kept the science centre open for an extended hour.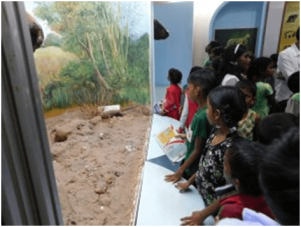 And it was just not him, but a whole group of people whom we kept meeting all through our trip, whose kind gestures made our trip swift and going. Our cook, the driver bhaiya, the commander on the airport and everyone who patiently stayed over and kept helping us, thanks to them. All these people somehow strengthened our belief in the humanity. So Haldhara came up and said happily, people are good here Didi, they respect us. ~ PrituVatsa Intern, Klorofeel foundation.