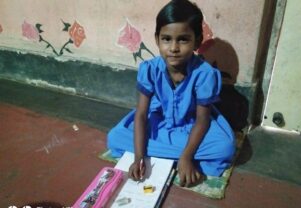 Niru is in standard-3 in an Odiya medium school. Like any other child of Jadua Sahi of Tarakote Village, her family also belongs to a labour class, where the father looks around in search of work and the mother's struggle for preparing a square meal is very much trivial to every household. Education is never a priority in the sahi (community). Lack of inspiration, education, awareness, and mentorship has been a long-lasting barrier for the kids to aspire for any other livelihood options beyond a daily wager. In the vicious cycle of struggling for basic amenities of life, hardly education could become a priority for parents.
Belonging to the similar surrounding, Niru was not an exception either. His father sent her to tuition in a nearby sahi, where she could barely continue for a week. On forcing to go, she used to cry, adds her father Mayadhara Jena. To get rid of study, Niru and his brother Somu, used to sleep till late in the morning until being roughly interrupted to wake up. As a deviation, Mayadhara was keen to offer his children a better education and hence worried at such behavior of their kids even at the elementary level. With not much resource in hand, they were clueless about how to get over it.
In Feb 2021, the first meeting with the mothers by Klorofeel foundation brought new hopes to his wife. With reference from mothers, Team Klorofeel could identify the only educated girl (Donarani Jena) pursuing +3 Arts in the nearby college. Addressing the apprehension of her parents about the ongoing study being affected was not that difficult. After she agreed, a basic training session on activity-oriented education for joyful learning was conducted, where 18 young boys and girls from Jajpur including Donarani attended. Few supporting tools and materials were provided to further ease the learning process of 13 kids (Standard 1 to 5) of Jadua Sahi. Gradually, the game-centric and fearless environment started to bring changes in their learning behavior. Niru – who was once afraid to go to tuition, now becomes the first to complete her homework. This is not less than a surprise to her parents when now she wakes up in the morning before them to complete the remaining homework every day. Mayadhara adds – now she often asks him concepts of Mathematics and teaches him how to do it when he funnily acts as dumb as if knowing nothing. Later, as we learned from other parents, the positive behavioral shift has been observed in other children in other ways.