We remember one of the first meetings with the mother's groups of Singh Sahi at Tarakote Gram Panchayat, Jajpur. There were mixed reactions of mothers about the current status of their child's education. Some were proud of the knowledge gradient, their child could achieve due to their involvement. Some were ok with wherever their child is. Few were overly concerned about their child not paying attention to study at home at all.
As we started the learning center, our first goal was to create a fearless and joyful learning environment, which our SAATHI did well. It was very much encouraging to learn that the mothers had, no more, to push the child to study or send to the learning center. There were traces of self-motivation and responsibility. However, the complaint of few mothers about their child not spending time at home in the study was still a question for us to respond to?
Before we think of any plans on how to bring further interest in them, we decided to observe the particular child at home for better realization of the problem. Prabhu was such a case. Smitanjali, Prabhu's mother, was very much worried for him for not keeping the academic habit like others. On further inquiry, she revealed about his engagement in collecting thrown-away items (polyethylene, wood, electronic waste, carton, small containers) around their house and creating random things out of it. After returning from the learning center, he wastes no time in being with the design of the day that at most of the time appears stupid and unproductive to his family members. To our frequent random visits, we found him alone (without any friend) investigating random items in his environment, piling them outside of the house, and creating small designs. It was very easy to find him completely immersed while doing it. We could soon grab his crave for creation and strength for imagination while watching him making it happen.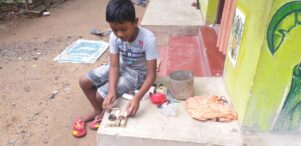 Sooner this incident made us realize the unique strengths and possibilities, every child carries from a very early age. Many times, parents being unaware of its present impact and future reflection, treat such manifestations as interference in a child's academic progress. Should they be forced to abandon it in the race of grades? When the whole world in the 21st century emphasizes creativity, critical thinking, decision making, problem-solving, resource optimization as the key skills to sustain in times ahead, what can be a more practical way to practice it from childhood?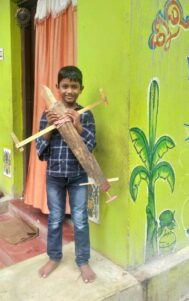 In Prabhu's case, instead of framing strategy to divert his attention more into academics, protecting his strength and shaping it further was a responsibility on us. We counselled Smitanjali to encourage his efforts and offer him freedom alongside academics. At the same time, we also discussed with Payal Singh, our SAATHI of the learning center, to keep her attention on his academic progress.
Further, in the next mother's meeting, we requested all mothers to encourage their children to try out different activities of their interest beyond academics. The more varieties they try and explore, the more information about their strength and interest can be gathered leading to decision-making for the best possible career options in the future.